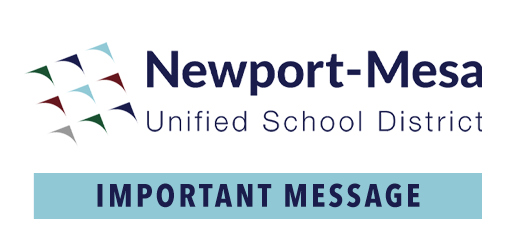 General Information
Welcome to Newport-Mesa Unified School District Schools Family Dashboard for Pre-Enrollment!
Our fundamental purpose is to provide quality service to our families and ensure a smooth and efficient process for pre-enrollment and change of address.
All requests will be checked for accuracy. Any falsification of information may result in your request not being processed and/or denied.
*Please also note that this website is optimized for IE 10.0 and higher, Safari, Chrome and Firefox.
Available for 2021-2022 School Year
Available for 2020-2021 School Year
Change of Address (Current Students):
For current students who moved within the Newport Mesa Unified School District boundaries and are requesting a change of address. The following documentation is required:
Current photo identification of parent/guardian
In addition to the documentation requirement above, you must also provide docuentation from option 1, 2 or 3
Option 1: Primary Homeowner or Leaseholder
Section A: one of the following documents must be provided:
Property tax bill with parent/guardian name and property address
Rental/Lease agreement with parent/guardian name and address, including the property management's/owner's contact information. If rental/lease agreement is not current, please provide the agreement with the previous two months' rental receipts with the property management's/owner's contact information
Section B: one of the following documents must be provided(Disconnection utility notices are not accepted):
Current Utility Bill (gas or electric)
Current Phone Bill
Current Income Tax Documents
Current Vehicle Registration
Medi-Cal Letter of Approval
Current Women, Infants, Children (WIC) Letter
Option 2: Co-Residents (Renting a Room)
Section A: The parent/guardian/caregiver who is co-residing (renting a room) with another family or individual is required to provide one of the following documents below:
Current Vehicle Registration with parent/guardian name and current address
Current Payroll Stub with parent/guardian name and current address
Current Bank Statement with parent/guardian name and current address
Current Income Tax Document with parent/guardian name and current address
Current Medical Letter of Approval with parent/guardian name and current address
Current Women, Infants, Children (WIC) Letter with parent/guardian name and current address
Section B: The Primary Homeowner or Leaseholder must provide one of the following items:
Property tax bill with parent/guardian name and property address
Rental/Lease agreement with parent/guardian name and address, including the property management's/owner's contact information. If rental/lease agreement is not current, please provide the agreement with the previous two months' rental receipts with the property management's/owner's contact information
Section C: The Primary Homeowner or Leaseholder must provide one of the following items:
Current Utility Bill (gas or electric)
Current Phone Bill
Current Income Tax Documents
Current Vehicle Registration
Medi-Cal Letter of Approval
Current Women, Infants, Children (WIC) Letter
Option 3: Military Personnel Only
Section A: A photocopy of U.S. Uniformed Services ID Card (front & back)
Section B: Two of the following documents must be provided:
Active Duty Military: Copy of active duty military (PCS) orders (SSN Redacted)
Retired/Separated: Copy of retirement/separation orders and final DD-214 (SSN Redacted)
Proof of Residency: Lease agreement or closing disclosure (formerly HUD-1)
Letter in lieu of for Expedited Military Family Enrollment is acceptable
Pre-Enrollment
The Pre-Enrollment process is required for all new students or returning students who have been out of the District for 12 consecutive months or more. The following documentation is required:
All required documentation from section above
Complete online Pre-Enrollment application
Record Request Form
Verificaiton of Age - Certificate copy or birth record, statement by the local registrar or county records certifying the date of birth, baptism certificate, passport, Proof of Age Affidavit of parent, guardian, or custodian of the minor
Immunization Card - All students must be up to date with immunizations for school entry
Student Physical Exam and Tuberulosis Screening Form - Only for Preschool, Transitional Kindergarten (TK), Kindergarten, and First Grade
Report Card/Transcripts
504 Plan and/or IEP (Individualized Special Education) - if applicable
Custody, Guardianship, Restraining Orders - if applicable
---
For More Information, Contact:
Newport-Mesa Unified School District
The Karen Kendall Welcome Center
2045 Meyer Pl (Rooms 111-112)
Costa Mesa, CA 92627
Phone: 949-515-6743
Fax: 949-515-6748
For Technical Support Contact:
Scribbles Software
Email: help@scribsoft.com
---
Business Hours
Monday - Friday
7:30 AM - 3:00 PM